Thought I'd join in with Linda at Truthful Tidbits and have some Friday fun !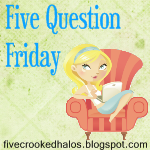 Welcome to Five Question Friday! An easy, peasy way to start off your weekend...and a fun way to get to know random facts about your fellow bloggers!
Rules for 5QF: Copy and paste the following questions to your blog post, answer them, then watch for the linky and link your post! Oh, and HAVE FUN!!
Questions for Friday, January 14th:
1. What movie could you watch over and over again and not get tired of?
Message in A Bottle with Kevin Costner In fact it was on last night.
Such a great story of love and loss and love again.
I love the scenery also.
2. What's your biggest pet peeve right now?
When waiting in a long line of traffic and people ride up the shoulder so they don't have to wait
then they want you to let them in. I don't want to but then I hear Jesus say turn the other cheek. OUCH
3. If you had to describe your best friend in five words or less, what would you say?
She is a Godly women. My sweet Shelly
4. If you did not have to worry about money or go to school what would you do for a living?
I've always wanted to work in a Doctor's office at the desk. I want to wear those fun and colorful uniforms and crocks ! Plus I love paperwork.
5. What is your one "splurge" item, that you will always buy, no matter the cost?
My Dunkin Donuts coffee !